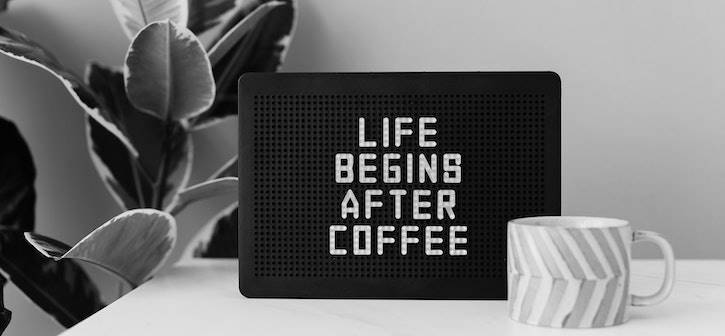 Began vs. Begun. How to Use Correctly?
You essay grade depends on whether you choose «has begun» or «has began». One mistake won't ruin your chances of rocking the class, but repeat offense might tick off your professor. If you struggle with the verb «begin», past tense forms, and correct usage, this guide is what you need. We'll go over the difference, examples, and memorization techniques used by professional academic writers and successful students.
When to Use «Began»
«Begin» is not a regular verb. Its past form, «began» indicates the prior activity that has been finished, or that occurred at a particular time:
The movie began at 5:30PM, so we missed the first half.
World War II began in 1939, but the USA did not join the fight until 1941.
I began writing this essay 2 days ago, but I haven't finished it yet.
Use «began» as a standalone. It doesn't require an auxiliary verb.
When to Use «Begun»
«Begun» meaning is the same as «began». However, it is a past participle utilized to indicate present, past, and future perfect tenses. Do not use it as a standalone verb, it should always be paired with a helping verb (have, has, or had). Choose the latter depending on the subject of the sentence and appropriate tense:
The concert still had not begun by the time we arrived.
I have just begun the research, so the results are far from conclusive.
Have you begun packing for our trip?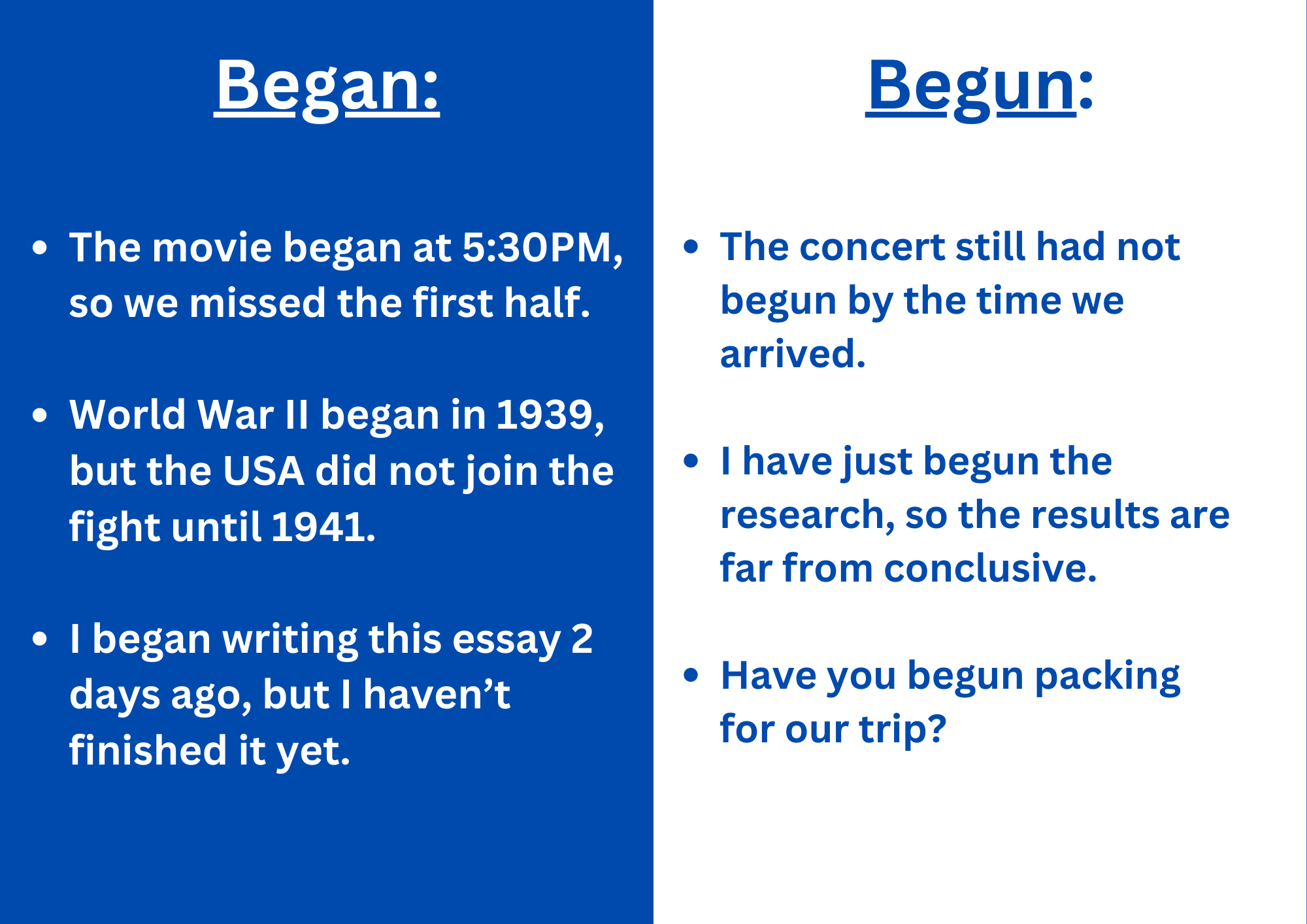 Began or Begun. Exceptions
There are exceptions to most rules of English. Sometimes, begun can come without an auxiliary verb, but only in set phrases:
Well begun is half done
This proverb means that when you start anything on a good note, half of the work can be considered done. There are no helping verbs. However, «begun» is used instead of «began». Linguists explain it by the saying being a translation and by the use of rhyme.
How to Remember When to Use Began and Begun
The theory is well and good, however in practice, many still forget the difference between began and begun. There are 3 ways to remember. Choose the one that suits you best:
Begun rhymes with «one», reminding you that there should be one more verb before it, an auxiliary verb.
«U» comes after «A», so if you recall the irregular verbs tables from school, the past participle comes after the past tense conjugation. Therefore, the trio goes: begin — began — begun.
Multiple irregular verbs change «I» for «A» and «U», so remembering the conjugations of begin should be as easy as ring — rang — rung or swim — swam — swum.
Alternatives and Synonyms


If you are still in doubt about the right form, you can use another word instead. The suitable synonyms list includes «start» and «commence». The former is a common verb used to describe the onset of something. The latter is a more formal choice suitable for formal letters, research papers, essays. Both of the alternatives are regular verbs, and their past tense forms are created by adding an «-ed» ending:
Start — started — has started
Commence — commenced — has commenced
Depending on the context, you can use other alternatives, like:
Launch (a project);
Embark (on a quest);
Set up (a routine);
Dive into (a discussion);
Get to (work).
Avoiding word choice and grammar mistakes is a staple of high-quality writing and professionalism. If you ever forget the rules or get confused again, revisit this short article. It will help you make the right choice at a glance.